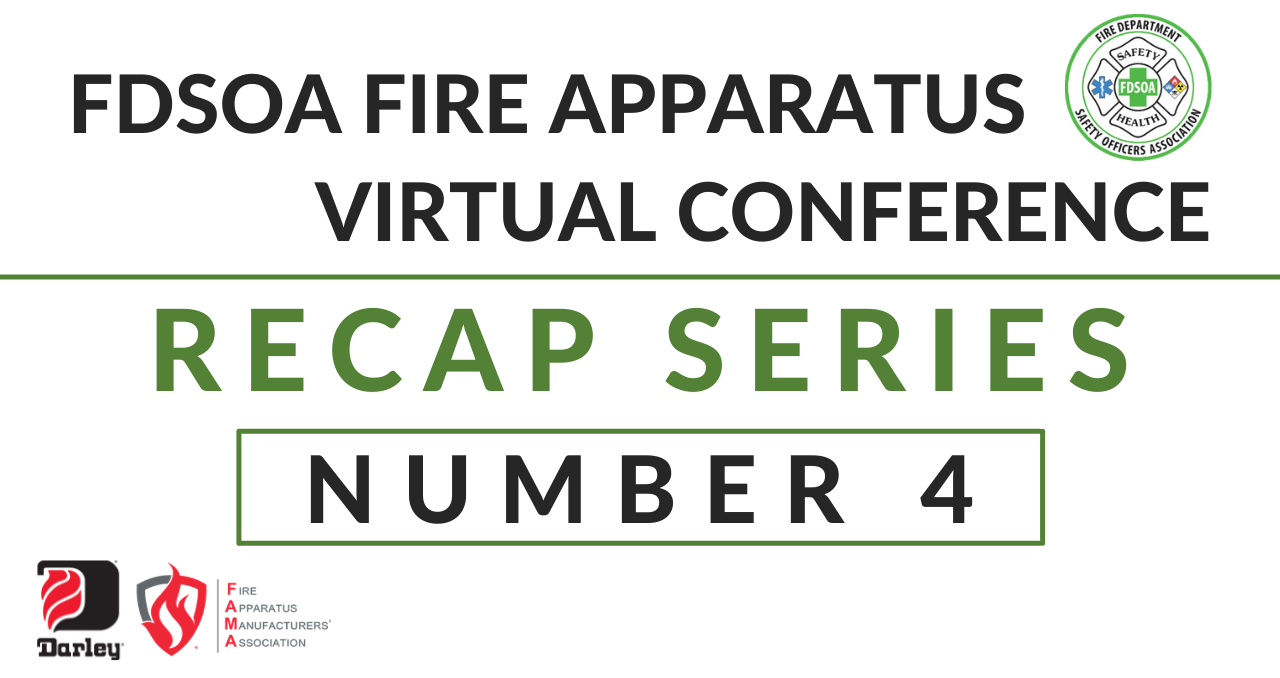 Last week, we shared Fire and Rescue Business Development Manager Bob Albano's insights into Hendrickson's efforts in ensuring suspensions available in the marketplace are durable and of the highest quality possible – if you missed it, check it out HERE! Scott Ames, the director of sales and business development at Reyco Granning, joined Bob during the FDSOA Virtual Fire Apparatus Conference to highlight how both Hendrickson and Reyco Granning are "committed to top-end technology of computer aided design and engineering," yet are different from other companies in their approach, product design and handling of the market. Scott Ames mentioned that Reyco Granning takes it a step further with their incorporation of finite element analysis (FEA), Design Failure Mode and Effect Analysis (DFMEA), Design Verification Plan and Report (DVP&R), topology optimization (utilized through the software package of Altair), suspension simulation, kinematic designs and ride and drive handling through computer-aided engineering.
In 2011, Reyco Granning "revolutionized what front suspension should be on a fire apparatus" via two front suspension options: independent front suspension (IFS) and spring and beam suspension. The IFS is a chassis structure that includes an upper air spring tower which adds rigidity to the chassis, a relay rod (also known as a drag link) that attaches to the gearboxes and air retention kits on outriggers, if applicable. The upper and lower control arms take place of the two beams that are usually on each side while keeping their characteristics: wheel hubs, steering knuckles and carries. Components that are already attached to the chassis, such as the main and auxiliary gearboxes, are consolidated into one unit/sub-assembly – another method that differentiates Reyco Granning from competitors and "allows for faster design and integration."
IFS has dynamic cambering (meaning the tire tread stays more engaged with the road, causing uniform tire wear), rubber bushings that easily maintain the unit by using "impressive" long-life bush joints that reduce road noise, a low camber change in which the tires bite in and a softer ride alongside improved maneuverability due to optimized steering geometry. "Ride quality," according to Scott, "is superb for firefighters and for the chassis" since road events are isolated. In other words, what happens on one side of the suspension does not happen on the other, so apparatus components like hinges and doors will suffer from less damage, while roll stability and correction in the rake (side-to-side motion) of the vehicle are due to the springs' outboard placement. The best medium to utilize for isolation from the road is air, which comes into play for dual height control, or when sensors with leveling valves make corrections using air. Dual height control is dynamic, so even as the load changes, the ride height remains constant. For example, let's say four firefighters are in a truck with all the equipment, but then two firefighters exit and take some equipment with them, causing a 1,000 lb. weight difference. The ride height adjusts according to the load and the road surface, so even though the load's weight altered drastically, the ride height did not. It is also easy to kneel – or remove air from the air springs – the front of a truck that has a front suspension with air ride to fit in tighter areas (like when driving under a bridge).
Many fire departments avoid IFS because of the maintenance cost and challenging alignment process, particularly compared to standard leaf springs, yet Scott noted Reyco Granning reviews maintenance and alignment early on as part of their Synchronized Solution Development (SSD) program. Even with the 2,500 IFS units currently on mission worldwide, he has actually not heard of maintenance complaints related to the upper and lower control arms. Still, Scott recommended to use a standard TRW TAZ 85 gearbox that has been proven to be easily maintained; it is important to keep in mind that multiple gearboxes are required when going over the 20,000 rating. Reyco Granning's IFS is known for its ease of alignment due to the use of eccentric bolts – which take a ball joint tool, available at any hardware or automotive store nearby. Departments are also concerned about air ride issues with moisture, freezing, body roll and leak down, but both Scott and Bob confirmed that current testing is analyzing all these cases to create solutions for the near future. Freezing and moisture often occurs in locations with high condensation, therefore high control valves work as an air dryer to blow out the precipitation. Referring to body roll: when making a turn, the air ride suspension can only react as quickly as air is funneled to it, so when a load change occurs, the torque rods help the suspension use the axle to create a torsion bar that enables the air suspension to react.
The second kind of suspension Reyco Granning "revolutionized" is the spring and beam in which "both wheels are connected by common axles, so what happens on one end has a counter effect on the other." Spring and beam also have dynamic camber change, meaning that "tire tread contact stays in touch with the road much more readily and achieves a tighter biting action to keep the vehicle in good handling" during cornering. The unsprung mass consists of equal hubs and carries a specific load and rating; this takes the place of the IFS's upper and lower control arms and is much lighter. Once a mass is excited and going through the motions though, it is much more difficult to dampen down, so the goal is to calm the excitation of the wheel within two and a half cycles (at most), which can be done because of the seamless controllability of the lightweight unsprung mass. "When specifying suspensions," Scott remarked, "you have to keep in mind that a suspension is like an electrical fuse – that guardian component that isolates unforeseen events or actions – and is that safety fuse for the rest of the chassis. You need to understand them to ensure you're getting the right product."
The Virtual Fire Apparatus Conference was held on May 18 and 19, 2021, and involved over twenty-five experts who spoke about topics from safety to COVID-19 to emissions. If you were unable to attend, head to FDSOA's YouTube Channel to watch the sessions available. You can also join FDSOA next year at the Annual Fire Apparatus & Health and Safety Conference on January 9 – 13, 2022, in Scottsdale, Arizona.
To view more posts in this series, click here.