The need for safe firefighter training must be balanced with sufficient challenge to prepare firefighters for the unpredictable nature of the fire ground of the future. Training must not be so controlled as to give firefighters a false sense of security, nor can it disregard established safety procedures for the sake of increased realism.
To maintain an effective cadre of firefighters and officers, the fire service must find new and dynamic ways to train personnel to act in a safe, decisive manner that best supports the fire service's mission to protect lives, property, and the environment.
Fire Chiefs must constantly challenge themselves by asking: How are we preparing our future generation of firefighters to meet the challenges of tomorrow?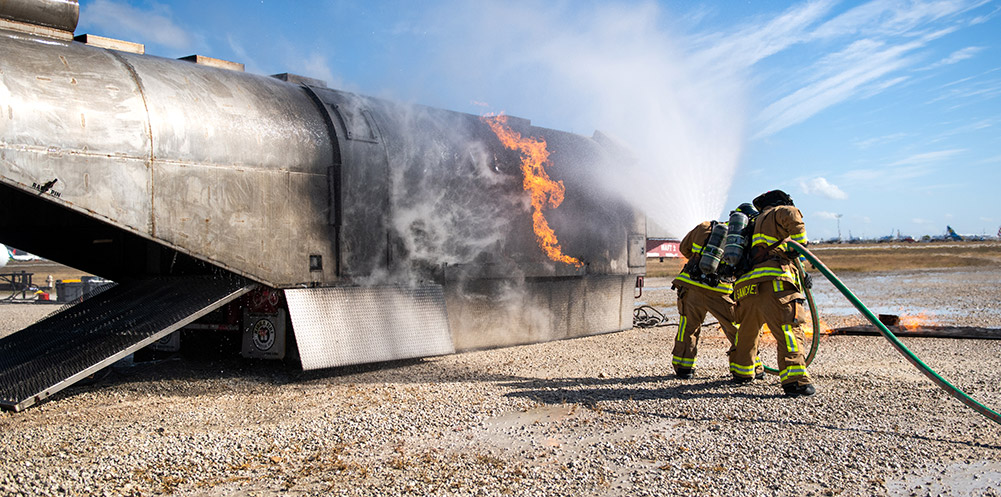 Capital investment and modernization of training should be thoroughly interweaved into your Department's Strategic Plan. Balancing safety and realism while operating under the restraints of a limited budget. That's why we at Darley Defense partner with the most innovative firms in the world in order to finds ways maximize the cost-effectiveness and efficacy of training.
We are proud to partner with Alpine Metal Tech in order to provide a range of simulator solutions to help you train for every fire-related eventuality – from tailor-made live fire training simulators to ongoing maintenance and aftercare.
Alpine Metal Tech SIMULATION is specialized in the supply of live fire training simulators for Civil Aircraft, Local Authority, Industrial, Military, Maritime, Oil and Gas. Their goal is to design, and build you a customized simulator that is developed through a partnership arrangement to ensure an optimum solution for the training of personnel at the your facility. Simulation´s dedicated, qualified and experienced team accomplishes turnkey solutions through a close collaboration with customers. They pride themselves on innovative concepts, outstanding quality of products and services.
Click the link below to get in contact with our team to start creating a solution for you.
{{cta('f6b01929-3d6a-47a8-9f4c-00aa63dea2b9')}}